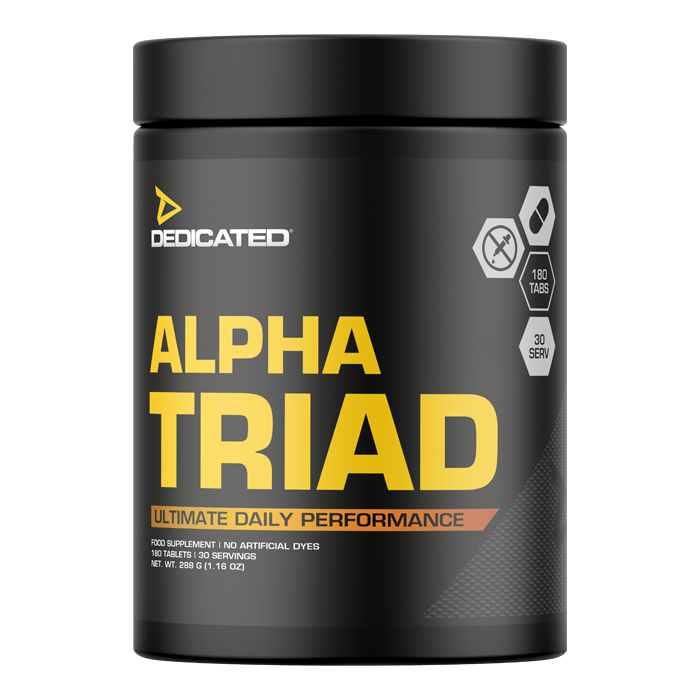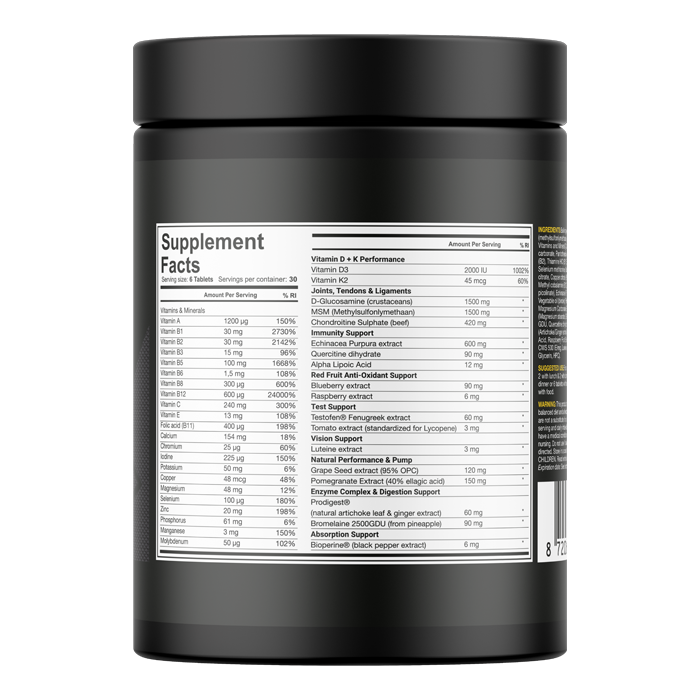 Alpha Triad
DEDICATED ALPHA TRIAD™ is the ultimate athlete's Daily Support Supplement on the planet.
ALPHA TRIAD™ is actually 10(!) products rolled into one, and not a Multi Vitamin with some minor 'benefits'. Supporting any athlete's needs from within and from all possible angles. There is no more need to supplement with various other products, ALPHA TRIAD™ takes care of it all.

- No artificial dyes.
- 180 Tablets.
- 30 servings per container.
sometimes the Basics aren't so Basic!
Vitamins & minerals are not only needed for optimal health, they are essential for anyone looking to build muscle, lose fat, increase performance and overall health. By adding a complete range of other nutrients to ALPHA TRIAD™ its health increasing and performance enhancing effects are more than doubled.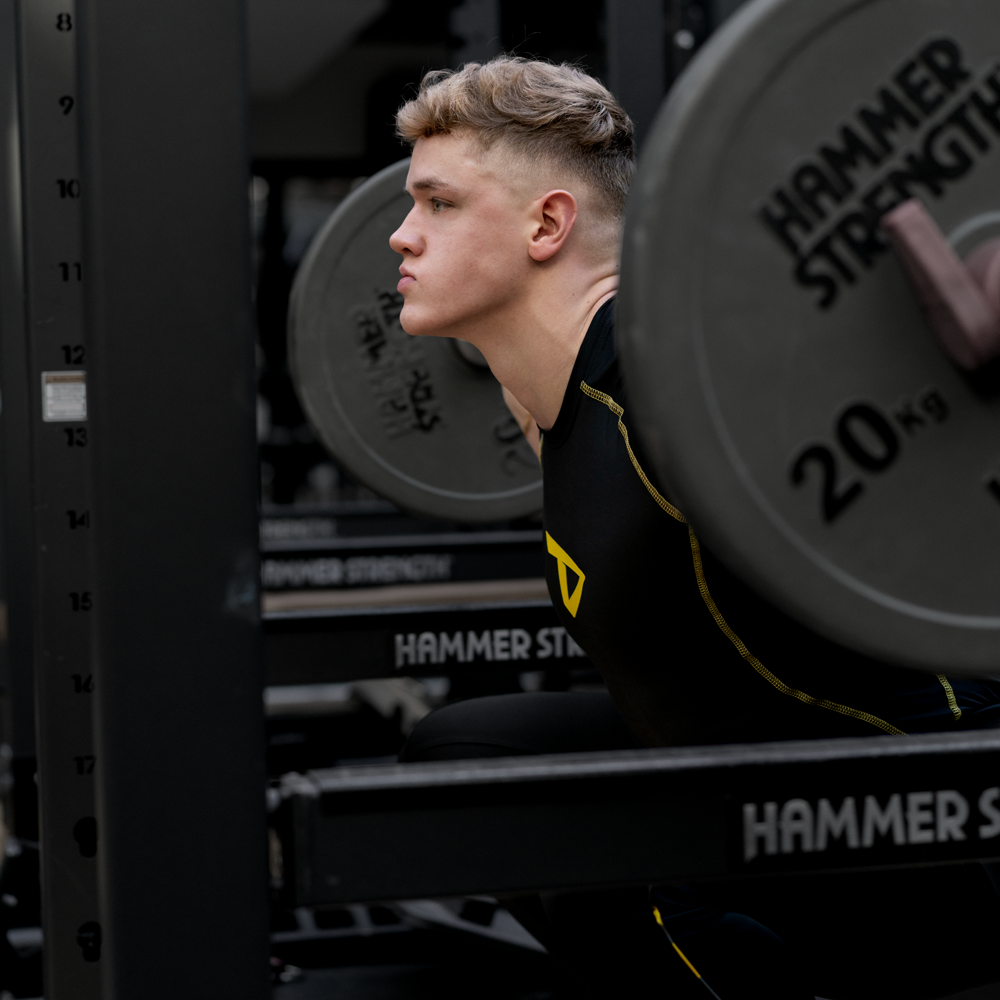 EVERYTHING YOU NEED, NOTHING YOU DON'T
Simply taking as much vitamins and minerals isn't going to improve your performance. In fact, it will severely hinder it!
There is a limit to how much of certain vitamins and minerals you should take before their dosage starts to become toxic like Iron. A simple Vitamin C for example can seriously impair athletic performance and muscle growth when taking over 1000mg per day! We've taken out all the guess work for you and completed a fully rounded and correctly high dosed formula. As an example ALPHA TRIAD™ is high in B vitamins for protein utilization and energy to perform.
ALPHA TRIAD™ is the first multi vitamin that is more than a simple mix of cheap vitamins & minerals thrown together. Every ingredient, every dosage, every unique form has a meaning. Finally a product that does it right!
TEN PRODUCTS ALL ROLLED INTO ONE!
Not only does ALPHA TRIAD™
contain the best vitamins and minerals it has a host of ingredients all
dedicated to increase your health and performance:
Containing only the best bio available and highest clinically researched dose of each patented vitamin and mineral. This complex is further enhanced with the best bio-available forms of B vitamins.

Vitamin C: Perhaps the most potent and important of all vitamins due to its crucial role in overall health, recovery, tissue repair and performance. However when taken in too high dosages vitamin C can actually hinder muscle growth through its anti oxidant usage. ALPHA TRIAD™ contains the right amount of Vitamin C; not too much, but certainly not too little.
Vitamin D is an extremely important vitamin for athletes as it is directly linked to natural hormonal stimulation and overall well-being. Over 77% of the general population is considered to be Vitamin D deficient. As such, supplementing with Vitamin D usually has an immediate impact on athletic performance and wellbeing. Vitamin K2 has been added to further enhance Vitamin D3's awesome effect.
Massive dosages of Glucosamine, Chondroitin and MSM in actual dosages that do work! When exercising intense your joint and ligaments can use all the help they can get. We just did!
Echinacea Purpurea. This rather unique herb has been used for thousands of years for increased health and a strong immune system. Echinacea has a proven usage against common colds and infections, nothing hinders performance and results more when you are not being able to function at peak levels. Quercetin dihydrate has been added for additional anti-oxidant support and performance benefits Alpha Lipoic is an anti-oxidant that's naturally made in our body which is used to break down sugars and attack free radicals.

The potent immune enhancing properties from Red Fruits actually come from the color red and less from the fruits themselves.
Patented Testofen™ is a unique herbal extract of the herb fenugreek that has been used for thousands of years to increase (male) performance. It has a clinically proven positive effect on performance. Natural Tomato extract for Lycopene has been added for further health support.
Lutein is a natural color pigment that has amazing eye protecting properties.
Grape seed extract & Pomegranate extract that are both exclusively developed to be structurally unique, yielding unprecedented levels of low molecular weight polyphenols. Our extracts have a very profound effect on increasing blood flow to working muscles through relaxation of the blood vessels. This will allow for increased delivery of nutrients and thus enhancing strength, speeding up recovery and being very heart healthy whilst giving you an increased pump in the gym AND bedroom!
Both Prodigest and Bromelain are natural extracts and enzymes that greatly enhance digestion and absorption. Athletes are consuming diets that are traditionally higher in protein. All that extra protein needs to be directed towards muscle growth and recovery. Which is exactly what both ingredients do; making sure you get more out of every gram of protein you eat!
Bioperine™ has been added as well to ensure optimal absorption of all nutrients from ALPHA TRIAD™ Bioperine™ is a patented black pepper extract that has a clinical proven effectiveness.
INGREDIENTS: Bulking agent (Microcrystalline cellulose), MSM (methylsulfonlymethaan), D-Glucosamine sulfate KCl DC (crustaceans), Vitamins and Mineral (Calcium Phosphate, Ascorbic acid (C), Calcium carbonate, Pantothenic acid (B5), Zinc citrate, Riboflavin 5' phosphate (B2), Thiamine HCl (B1), Sodium molybdate, Menaquinone-7 (K2), Selenium methionine, Nicotinamide (B3), Retinyl acetate (A), Manganese citrate, Copper citrate, Pyridoxal-5-Phosphate (B6), Folic acid (B11), Methyl cobalamine (B12), Biotin (B8), Potassium iodide, Chromium picolinate), Echinacea Purpura extract, Chondroitine sulphate (Beef), Vegetable oil (binder), Pomegranate extract, Potassium citrate, Magnesium Carbonate, Grape seed extract, Anti-caking agent (Magnesium stearate, Silicium dioxide), Blueberry, Bromelaïne 2500 GDU, Quercetine dihydrate, Testofen® Fenugreek extract, Prodigest® (Artichoke/Ginger extract), E D-A-toc. Succinate 1210 IE/g, Alpha Lipoic Acid, Raspberry Fruit Extract, Piper nigrum extract (Bioperine®), D3 CWS 500 IE/mg, Luteine, Tomato extract, Coating Transparant (HPMC, Glycerin, HPC).
For optimal utilization take 2 tablets with breakfast, 2 with lunch & 2 with dinner. Alternatively take 3 tablets with breakfast & dinner or 6 tablets with breakfast. This product should always be taken with food.
This product contains Shellfish (crustaceans). A varied, balanced diet and a healthy lifestyle are important. Dietary supplements are not a substitute for a varied diet. Do not exceed the recommended serving and daily intake. Please consult your doctor prior to use if you have a medical condition. Not recommended if you are pregnant or nursing. Do not use if safety seal is broken or missing. Use only as directed. Store in a cool dry place. KEEP OUT OF REACH OF CHILDREN. Read entire label before use.
FAQ
Everything you want to know about ALPHA TRIAD™.
Simply take ALPHA TRIAD™ with your breakfast, lunch and or dinner. Simply take the full serving in 1 go or split it into 2 or 3 parts.  
Yes, ALPHA TRIAD™ contains safe
and proven ingredients and does not contain any banned substances. It's designed to be taken each and every day and not just on training days. Results will continue to improve over time.
ALPHA TRIAD™ contains shellfish.
Yes, ALPHA TRIAD™  can be perfectly stacked with other DEDICATED™ products and should be a daily staple product in any stack. Be it for muscle growth or weight loss.

In fact, all DEDICATED™ products are uniquely designed to work in perfect synergy with each-other, meaning they are not only great in combination, but they even enhance each other's effectiveness when taken together.